An Internet telephony service provider provides communications services using digital telecommunications medium such as VoIP to either residential users or commercial enterprises. Anyone having a general knowledge of ICT's can setup an ITSP business. There are three main components required to setup your own ITSP setup.
1) Hardware infrastructure
Hardware infrastructure may consist of dedicated servers, switches , routers , internet bandwidth etc . The hardware infrastructure can be on rental basis from third party hardware provider or it will be owned at own premises.
To start B2B telemarketing business using ICTBroadcast Service Provider Edition , following are minimum hardware requirements
Dedicated server with Quad Core 3.0 ghz processor , 4 GB RAM and 200 GB Hard Disk
Sufficient symmetric internet bandwidth taking into account that a single call consumes about 87.2 kbps
Fresh installation of CentOS 7.x without any additional software installed
2) Software
It consist of two main components , first main marketing website with products listing with self services customer web portal and eCommerce capabilities and second, a communication web portal to serve customer and manage their telemarketing campaigns separately.
You need following software components to start a complete B2B turn key telemarketing business
3) Telecom carries
That includes Voip / PSTN carriers for voice terminations , SMPP carries for SMS messaging and EmaiL gateways . The admin need to select a VoIP / PSTN /SMPP carrier that will provide bulk call origination and termination services. Important consideration while selecting a communication carrier provider is in which countries of the world it provides services. Particularly in your target market before engaging their services. Factors such as quality and the availability of support should also be given careful thought before any decision is taken. Many companies will offer automated support as part of a free package and some companies even offer free support from human operators. With the large number of VoIP carriers in the market it is worth spending sometime comparing the features and support packages that come as standard. See list of VoIP service providers.
In this article, we will discuss software component that is required to set up our own ITSP setup. A complete ITSP solution will require 1) Provisioning portal it includes marketing of products and services, client management, billing, CRM and support services 2) communication service portal it provides user and admin web portals to use the communication services. Below we will discuss these two main components accordingly.
Customer portal
We have selected WHMCS as our client management, billing , support solution & marketing platform for online businesses. Handling everything from website sign-up to product provisioning to subscriptions to support system, invoices & payments, WHMCS is a powerful business automation tool that puts you firmly in control.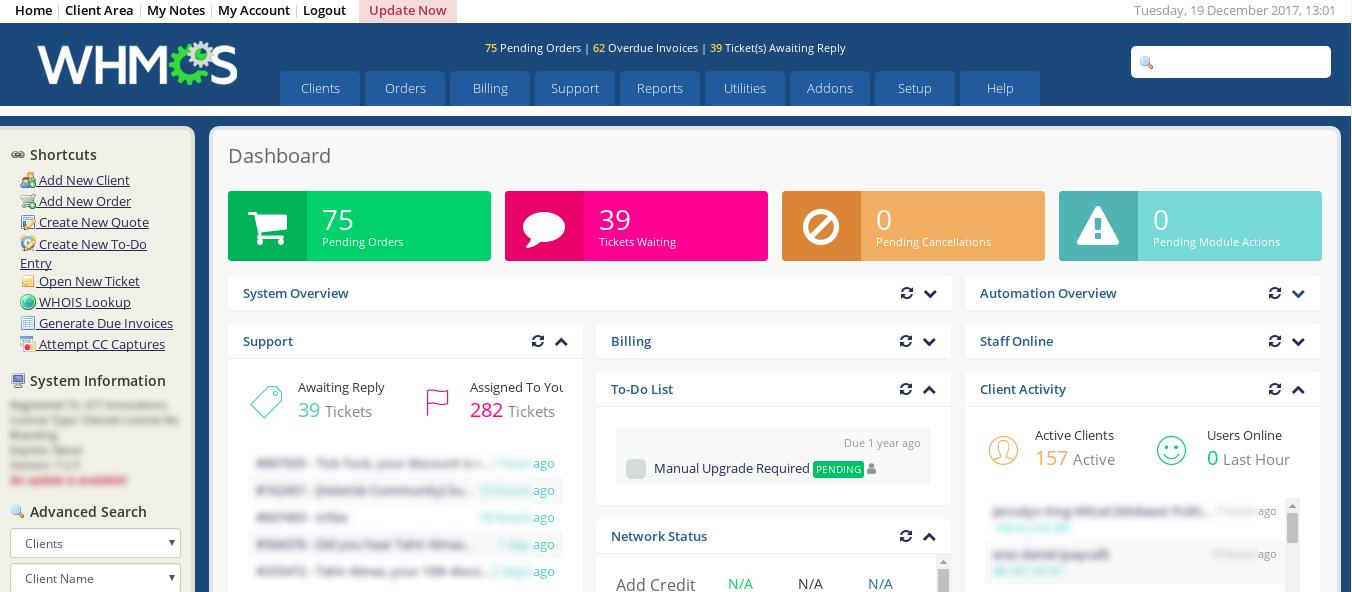 About WHMCS
WHMCS is a complete web based all in one billing, support and client management solution for all online businesses. WHMCS provides cart and invoice setup for online business website. By using WHMCS we can automate everything from account provisioning to domain management to email reminders and much more. WHMCS provides facility of multiple currencies, auto exchange rates syncing, up to 2 levels of tax rules and a fully multilingual client area.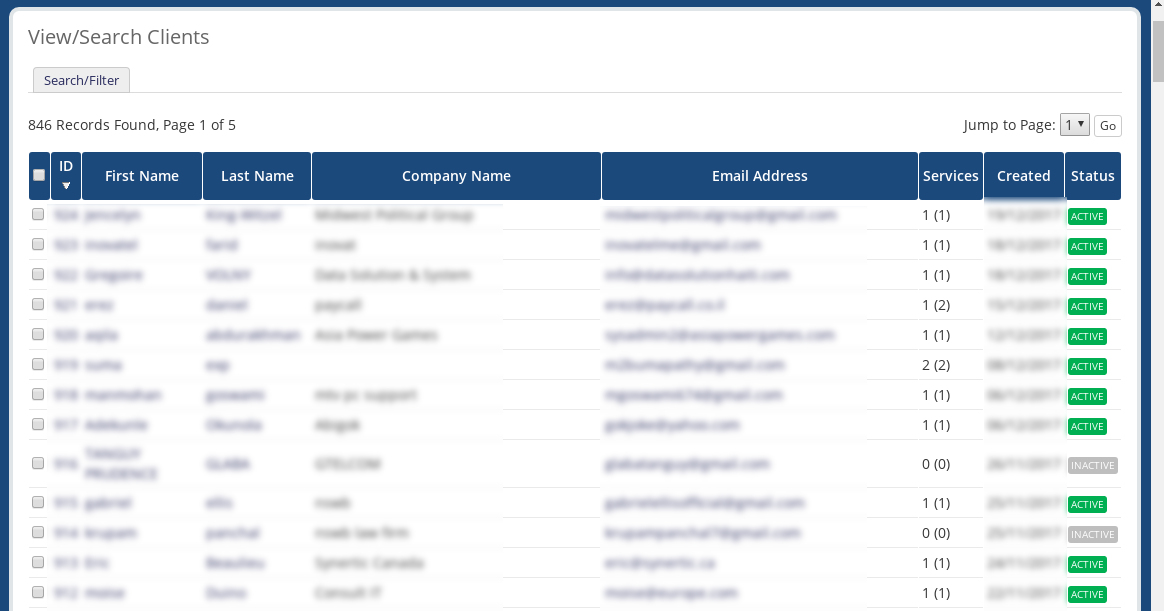 Integration of ICTBroadcast With WHMCS
The ICTBroadcast REST APIs provide an interface to allow us to access and perform an action in ICTBroadcast for external applications. ICTBroadcast integeration with WHMCS by using REST based API's completly automate your buinsess process.ICTBroadcast APIs are defined in 3 classes API_User,API_Contact and API_Campaign we integrate in WHMCS.Mostly ICTBroadcast REST based APIs are used in WHMCS are related to account administration.
We have developed ICTBroadcast integration module for WHMCS and this module will allow WHMCS to integrate with ICTBroadcast Service Provider edition. This integration will allow WHMCS to offer following ICTBroadcast based services.
Bulk message notification
Auto Dialer / Predictive Dialer
Interactive / Press one Campaign
Simple Voice Message Broadcasting
Fax Blasting / Broadcasting
SMS Campaigns for Advertisements
Call center related services
Subscription campaign support to automatically register customers for new offers / packages
Phone call based Surveys / polls campaig
Appointment Remainders campaign
subscription campaign to register customer for specific package through voice broadcasting campaigns
inbound telemarketing campaign with press 1 option
inbound Survey campaign to conduct survey on incoming calls automatically
complete automated inbound / outbound call centre services
This module provides a complete billing automation solution including product list, order automation, service provisioning, invoices and payment. Clients can order online and have their service ready to broadcast without any interaction required from admin side.
Further, it will allow ITSP / admins to define their own Broadcasting related packages in WHMCS for their clients. They can customize these packages in WHMCS by selecting a combine following features.
Call / VoIP Rate Plan
No. of concurrent channels
Subscription period and reoccurring payment
One time fee
Free credit / VoIP minutes
Service Portal
ICTBroadcast Service Provider Edition is business autodialer (B2B) and complete call center solution supporting white-label white-label and other advance features
It is complete service portal for both users and administrators . It enables users to login into service portal , add their contacts, record or upload their messages and create verity of telemarketing campaigns with full monitoring and control. Service Portal enables administrators to manage all system resources, users, channels allocations , extensions allocations to users, add balances to user account , manage gateways and dashboard with live monitoring of system statistics.
ICTBroadcast Service Provider Edition features multi service prepaid billing, LCR routing, load balancing, scale-able across multiple servers , real time live system statistics, resource allocations and advance user management and verity of telemarketing campaigns including custom designed campaigns with the help of builtin IVR Designer.
What services you can provide as an ITSP business?
With ICTBroadcast, Service providers can provide a wide range of services to their customers. Some of them are listed here.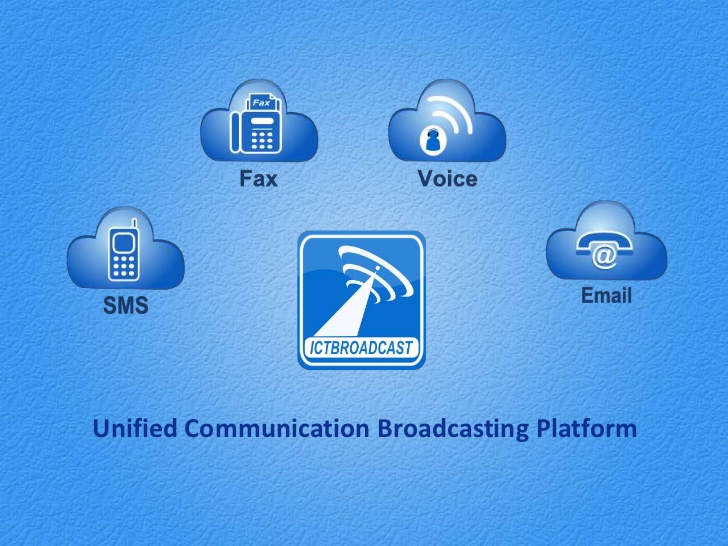 Voice Broadcasting
Voice broadcasting is mostly used for direct marketing of products or services. It can also be used as an emergency notification system. There is virtually no limit on the number of contacts to dial in a campaign. A single campaign can dial hundreds of thousands of contacts within few minutes and spread your recorded message anywhere in the world. Another variant of voice broadcasting is "Press One" method. It can be to used to connect with a live agent or sales representatives.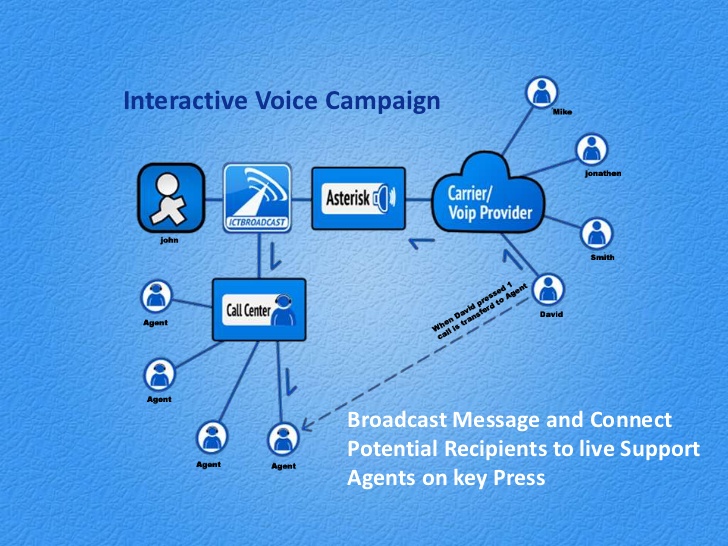 Fax Blasting
Most people think that this technology is dying but, in fact, faxing has a re-birth since the advent of internet telephony. Fax campaign in ICTBroadcast dials numbers from contact lists and on answer by the recipient, transfers fax documents.
SMS Messaging
This campaign, just like any other campaign, broadcasts a text message to all the numbers from a contact list.
Voice Call Surveys and Polls campaign
ICTBroadcast also provides survey campaign feature that enables you to run voice-based surveys asking call recipient multiple questions, and then creating useful reports from the survey responses.
Appointment Reminder campaign
ICTBroadcast can be used as an automated appointment reminder software that can help to remind different events.
Subscription campaign to register customers automatically through voice broadcasting campaign
ICTBroadcast Subscription Campaign enables businesses to automatically invoke software registration process or other application with just one key press from recipient / customers. With the help of Subscription Campaign, another software or application can be integrated. It plays pre-recorded voice messages offering customer / recipients to press required key and when interested customer presses that specified key, ICTBroadcast invokes registration process and calls API of other software/Application automatically.
CNAM Support in ICTBroadcast
To implement LCR, some information is required from HLR for which ICTBroadcast has a module CNAM.CNAM query gets the information about that number through OCN, on the basis of that information route is selected.
Inbound and outbound Call Center
ICTBroadcast supports both types of Call Centers :
Inbound Call Center
Outbound Call Center
Inbound Call Center
Inbound call centers are the ones that deal with incoming calls, emails, texts, and live chat inquiries. An easier concept to understand is, your customer calls you instead of you calling them. These calls are originated by the client, they can provide a great opportunity to delight them with exceptional service.
Outbound Call Center
Outbound call centers are the ones that deal with Outgoing calls, emails, texts, and live chat inquiries. In Outbound Call Center you call your customers instead of them calling you.Calls that are originated by the call center staff either for sales, customer service surveys or as a follow up to an inbound call request.
There is requirement to purchase an ICTBroadcast Service Provider (SP) license. ICTBroadcast SP is a scalable auto dialer with billing and routing. It uses open source Asterisk PBX as its back-end. ICTBroadcast SP can be scaled to multiple nodes of Asterisk PBX. So this also eliminates the bottleneck of single server. Multiple Asterisk nodes can communicate transparently without any delay. Moreover, administrators don't have to worry about the back-end. Easy to use monitoring system of ICTBroadcast give its users real-time statistics of the server machines and call load. See more technical detail on ICTBroadcast SP edition.
Dedicated Trunk
ICTBroadcast provides Dedicated Trunk support. Each user is provided with a separate Trunk and they transmit and receive data through a specific trunk.
Trunk is a port that is responsible for carrying the traffic. In a PBX thousands of calls/data is being transmitted and received by Trunks. Providers give access to trunks and these Trunks are configured in ICTBroadcast to make calls. Admin configures Trunk in ICTBroadcast and assigns it to the users.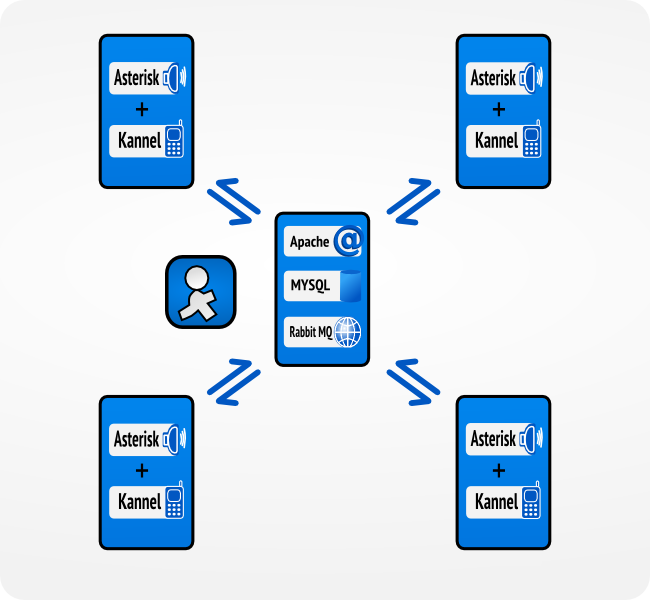 How ICTBroadcast can help you in your ITSP business?
ICTBroadcast service provider (SP) edition has all the features of enterprise-grade software for its customers who want to become Internet Telephony Service Providers (ITSPs) and want to provide their own broadcasting services (such as voice, sms, fax and email) to their customers. ICTBroadcast is productive, scalable, fault-tolerant and secure software and also comes with monitoring, integration, upgrading and support services. Some other features that ICTBroadcast SP edition have to support your business are listed below:
Multi-tenant and Multi-campaign
ICTBroadcast SP edition is a multi-tenant system that provides separate web portal for users and administrators. Every user can create unlimited number of campaigns running simultaneously.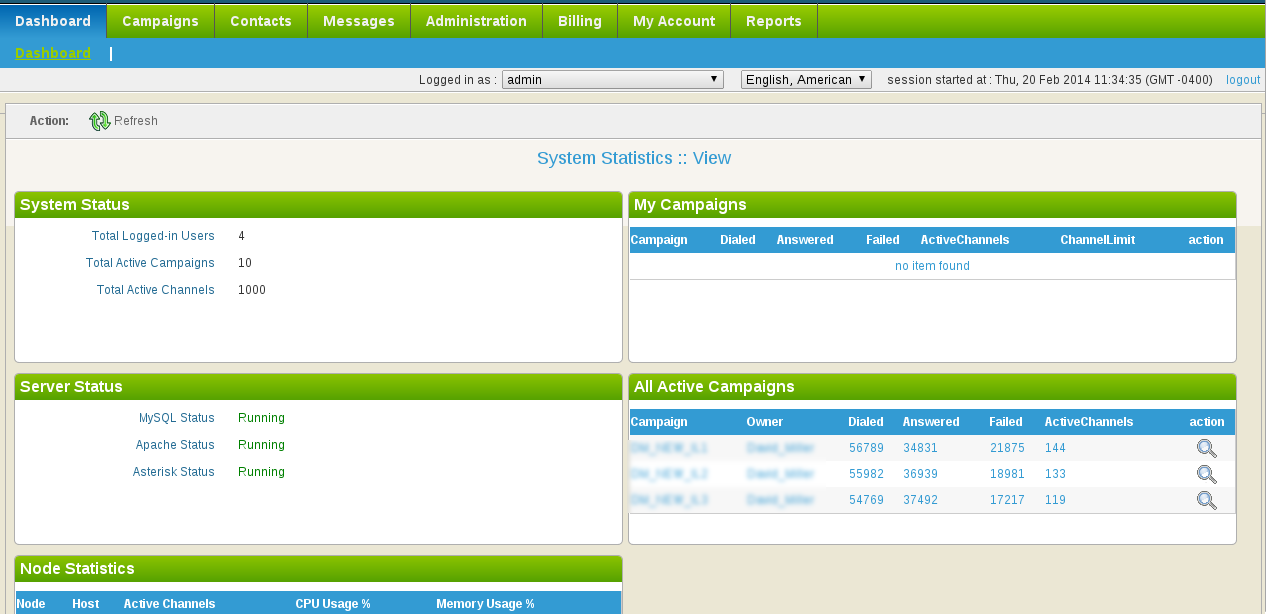 System monitoring
ICTBroadcast SP edition provides all system monitoring features at one place (i.e. Dashboard) allowing Admin to monitor overall system resources, including nodes, users, channels and campaigns statistics.
Multi-service Billing
ICTBroadcast SP edition also provides various billing related reports that is a must have feature of multi-tenant environment. Apart from that, a summary and comprehensive detailed report of every campaign is also created that shows statistics related to the campaign.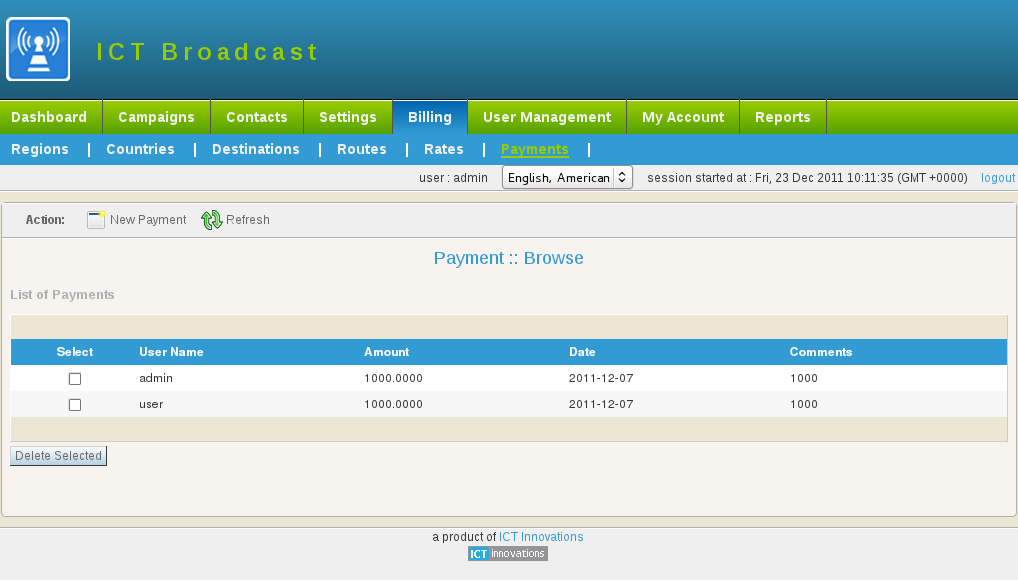 Resource Management
ICT Broadcast SP edition helps to manage rates, routes, payments, channels, users and their permissions. Administrator can also manage system resources such as assigning or un-assigning extensions and DIDs to users.
Internationalization
ICTBroadcast SP edition is multi-lingual system with built-in support of many of the mostly used languages on Internet and can easily extended to support any other language.
Third Party Integration
ICTBroadcast SP edition provides easy to use RESTful APIs to integrate with a third party software such as CRM.
Smartphone Client
ICTBroadcast SP edition Smartphone client (for Android Devices) is an easy to use Android App for your customers to create and run campaigns by quickly recording a voice message and sending it to their contacts.
Overall ICTBroadcast SP edition is a complete solution for anyone seeking to start their own business as an Internet Telephony Service Provider (ITSP).
Technical Details of Different Packages of Service Provider Edition
Click here to know about technical details of different packages of ICTBroadcast SP Edition
Selecting a Wholesale Voip Provider for your requirments
Click here to know how to select a wholesale voip provider (sip termination) for your needs
ICTBroadcast blog
Keep in touch with our latest articles and updates in autodialer market